413 HIGH ST. SUITE 300, BRIDGEPORT , WV. 26330



Office (304) 842-2946

1-800-842-2947

Fax (304) 842-5826


Diversified Marketing, Inc.

Carlyle G Millard, Broker

AUCTION
April 16th, Sat. 10 AM
WVU

DIRECTIONS: 50 Tower Lane, (old General Woodworking Bldg.) Morgantown, WV. Exit 152 Westover, 19 north towards Westover, turns into Holland Ave., left on road immediately in front of cement bridge, cross railroad tracks, turn left, tan building with red roof (DMI arrows will be posted.
PLEASE NOTE: Can't make it to the auction. The warehouse is open Monday-Thursday 7:00 AM to 3:00 PM, Friday 7:00 AM to 10:30 AM, feel free to browse and then call us about our absentee bidder program.
TERMS & CONDITIONS-Payment in full at the conclusion of auction in cash, certified funds, travelers checks, in state personal or company checks,Visa or MasterCard accepted with 3% buyers premium on all merchandise. 3% of buyers premium will be wavied for cash and check purchases. Checks MUST be made payable to: Diversified Marketing Inc. The personal property is being sold "AS IS", "WHERE IS" and without any guarantee either expressed or implied. All personal property is to be removed by April 20th , 2016 3:30PM. WVU reserves the right to add or delete items. Titles will be held until May 2nd, 2016 for any vehicles paid for by company or personal check.
click here to view items to be sold

VEHICLES
2006 Dodge Caravan (57,990 miles); 2003 GMC van 3500 (119,344 miles); 2001 JeepCherokee 4x4 (189,095 miles); 2001 Dodge Ram 2500 extend cab 4x4 (65,818 miles); 2001 GMC Savana van 1500 (58,468 miles); 2001 GMC Savana van 1500 (49,728 miles); 2000 Dodge Ram 3500 van (110,223 miles); 2000 Jeep Wrangler 4x4; GMC Safari van; 1969 Ford tractor with cab and broom; 7 tires (235-710R460A 104 T) bumper;

TOOLS
Oliver wood lathe;

OFFICE EQUIPMENT
Hon 5-drawer filing cabinet; (48) 5-drawer filing cabinets; (11) 5-drawer lateral filing cabinets; (15) 4-drawer filing cabinets; (5) 4-drawer lateral filing cabinets, (2) 3-drawer lateral filing cabinet; (4) 2-drawer filing cabinets; (2) 2-drawer lateral filing cabinets, wood table; student desk, desk parts; metal desk; wood desk, computer desk, (2) whiteboardS; (21) metal bookcases; (3) wood bookcases; round table; 2 glass top end tables; storage cabinet, (2) wood tables, (2) wood credenza; tv stand, magazine rack, (3) bulletin boards, 92) small tables, mailbox, (7) mobile carts, (3) Fellowes paper shredders, Ricoh copier floor model, 3-piece desk set, map cabinet; 6 green chairs, purple secretary chair, chair mat, (2) lamps, pigeon hole desk top, podium, paper files, (3) calculators, projection screen,

SPORTS EQUIPMENT
Soft trac treadmill; stationary bike; Stair Master; Life Fitness stepper, StepMaster step mill; Versa climber, exercise equipment,

MISCELLANEOUS
Enorossi cutter bar, fiberglass truck top; military 4-cylinder air cooled gas motor; lot of air conditioning and electrical equipment; 2 Multiscan TVs; Sharp TV, (3) Sony TVs; (2) TVs; (3) 4-piece wicker furniture sets; Campbell upright piano, 6 outside lights; Hotpack heater; Viking sewing machine, (3) sewing machines; dishes; glass china cabinet, glass china case; white shelf; (3) small storage cabinets, metal cabinet, 2 framed pictures, desk top, locker cabinets, matching chest of drawers and 2 night stands, end table, divider, lot of chairs, wood shelf, (3) mobile cabinets, coffee table,

COMPUTER EQUIPMENT
Hewlett Packard plotter, Hewlett Packard laser jet printer, pallet of Hewlett Packard printers,
Many other items too numerous to list.

WE SELL THE WORLD AND EVERYTHING ON IT!!
Carlyle Millard Lic. 43-16


IS THIS WHAT THE FRONT OF YOUR BUSINESS SAYS ALL THE TIME???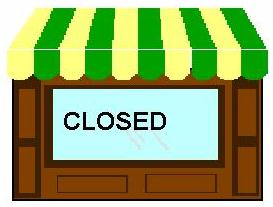 IF YOU ANSWERED YES?
CALL DMI TODAY!!

Would you like to see houses we have already sold?
We would love to be able to put your house on our WALL OF FAME .
WE SELL THE WORLD AND EVERYTHING ON IT!!
Call now for you free auction consultation.
Your real estate, personal property or business could be next!!!
For more information please e-mail DMI